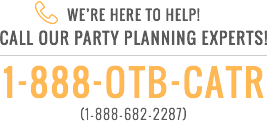 Customer Support Center Hours:
Mon - Thu: 7am - 8pm
Friday: 7am - 6pm
Sat: 12pm - 6pm
*All Times Central
Option 2: Call Us to Help Plan Food for Your Event
We're here to help! Call our party planning experts and we'll help you create a menu.
Option 3: Choose Your Food and Order Online
Know what you want? Choose from our menu to order your meal now.